Character Design Monster Lab
Skill Level
All Skill Levels
Learn how to design monsters from the ground up! This character concept course teaches you the process of going from a sheet of brainstormed ideas to a compelling piece of digital art. Along with learning the fundamentals of monster design I'll also be focusing on teaching you my shapecarving technique. You'll get to see how I iterate on concepts and choose specific elements to zero in on and learn why the devil is in the details. Finally, there's advice sprinkled throughout the course to help you adapt this process so you can make it your own for any concept design jobs you tackle in the industry.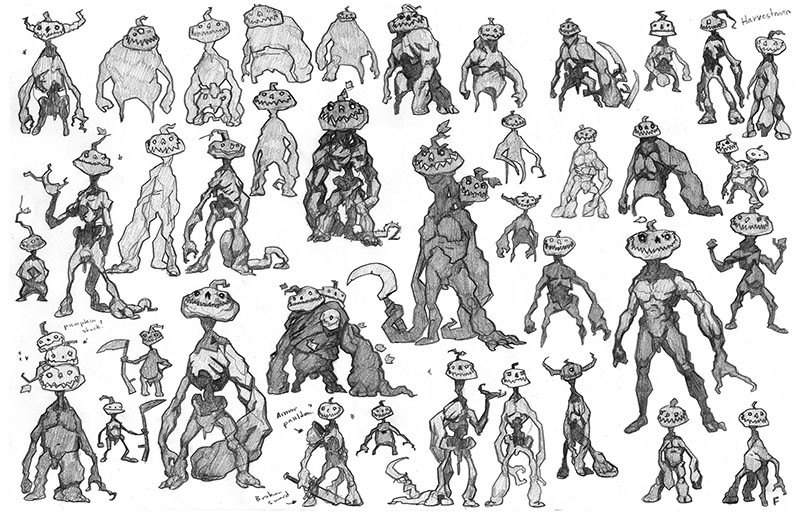 What you will learn
1
Design Concepts for Creating Character Variety
Learn how to design a group of diverse and complimentary characters.
Learn how professionals use notes and lists to aid in creating unique character designs.
Learn why artists do thumbnail drawings and how you can use them to flesh out a character concept.
4
Refining Pencil Sketches
Learn how to clean up your pencil drawings for presentation.
Learn the process of making silhouettes from your drawings and then carving them into a more complex colored piece.
6
Color, Texture and Final Presentation
Learn how to balance groups of characters in a composition and the role that color and texture plays in strengthening the presentation of your ideas.
Premium Benefits
Exclusive Content
Only premium students get to watch the majority of instruction contained in this course. Little to no free content is provided.
Assignment Demonstrations
The instructor includes demonstrations that show how to do an assignment or how to use the information taught in the lessons. Most of us are visual learners (we're artists!), so hearing it explained is not enough. We have to see it many times.
Downloads
Includes content that the student can download to any personal device for offline viewing.
Money Back Guarantee
We offer no-questions-asked refunds within 30 days of your purchase. Our goal has always been to create a happy, thriving community. If you are not thrilled with the product, then we have no interest in forcing you to keep it.
What others are saying
Tayler Olivas
Scott is one of the most enthusiastic concept artists that I've had the chance to learn from, and work with. His passion for the subject matter behind his work is very apparent, giving his students an ability to digest the world around them, and clearly communicate their ideas through their artwork.
John Costa
With a heavy emphasis on critical thinking, research, and shape design, your character art will move to the next level. Scott's design process is so straightforward and well articulated that every artist who takes his course will see a massive improvement in their designs.
Josh Sunga
Scott focuses on the individuality of an artist and how to grow into it. Meanwhile teaching the power of shape in design and the logic behind it. In the process, artists learn to explore their own ideas and figure out just how exactly they want to express them. It's awesome.
Gary Tanaka
I can confidently say that I would not be the artist I am today without Scott's teaching and mentorship. The way he brings out an artist's inner personality and gets them to put it on the page is second to none. Expect to come out of his course with a new outlook on design and a deeper sense of your artistic-self that will stay with you for the rest of your career.
Josh Shelnutt
Scott's teachings have been a huge influence on my art. He has a way of knowing which direction to push students in, and because of this I was able to have a better grasp on my own artistic voice. Not only did his mentorship teach me new and digestible ways of thinking about shape, it also gave me the confidence I needed to become successful.
Alec Brubaker
Learning from Scott has been a continuous experience of artistic discovery. I cannot fully express just how much his insights and knowledge of character design, shape, and most importantly how to think have completely changed the way I approach art. Do yourself a favor and learn from this guy!
F.A.Q.
Are there any material requirements for this course?
What is shapecarving?
Is this price a monthly fee?