Marvel's The Art of Storytelling
NOTE: This course was designed so you could enroll at any time and go at your own pace. You can watch lessons that have already been released. Expect new content about once per week.
HOLIDAY NOTICE: Proko and Marvel are taking a holiday break during December. New content will begin releasing early January 2024
Comics captivate us through their distinctive blend of visual storytelling, memorable characters, and stunning artwork. Since Marvel's inception in 1939, they've been masters of this medium, capturing imaginations around the globe. Now, in this collaboration between Marvel and Proko, we're bringing you the creators right to your screen, ready to share their expertise in storytelling!
In this comprehensive course, top Marvel artists and storytellers will guide you through every stage of the comic creation process, equipping you with the skills you need to craft your very own comics.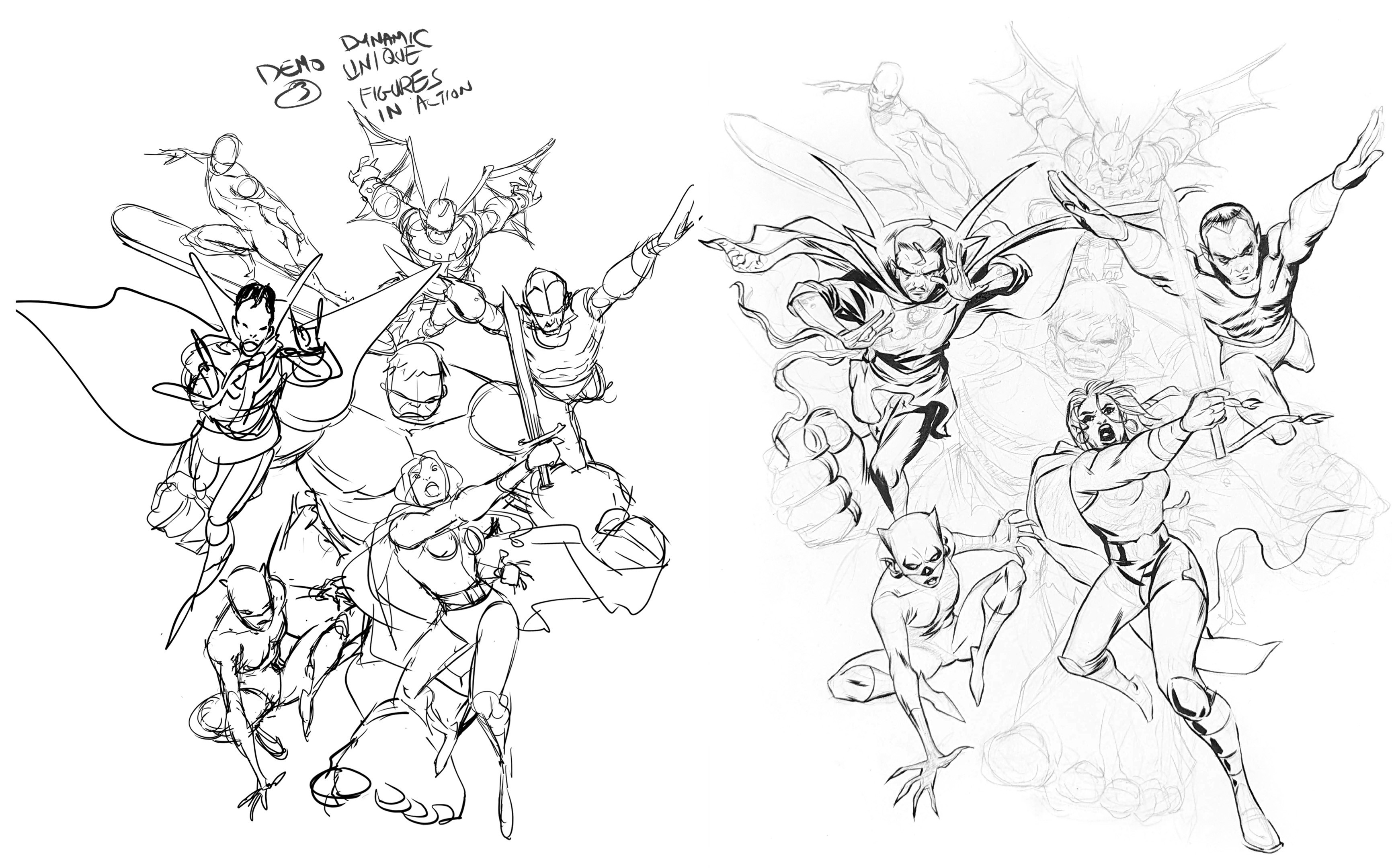 Our action-packed curriculum is divided into 9 lesson groups: storytelling, pencil techniques, inking techniques, cinematography, panel layout, character and environment design, perspective, color theory, and comic covers.
Each lesson group features in-depth lessons and demonstrations led by seasoned Marvel professionals, providing you with the techniques and tools to forge your artistic arsenal. Plus, you'll be challenged with assignments designed to help you practice and perfect the concepts vital for mastery.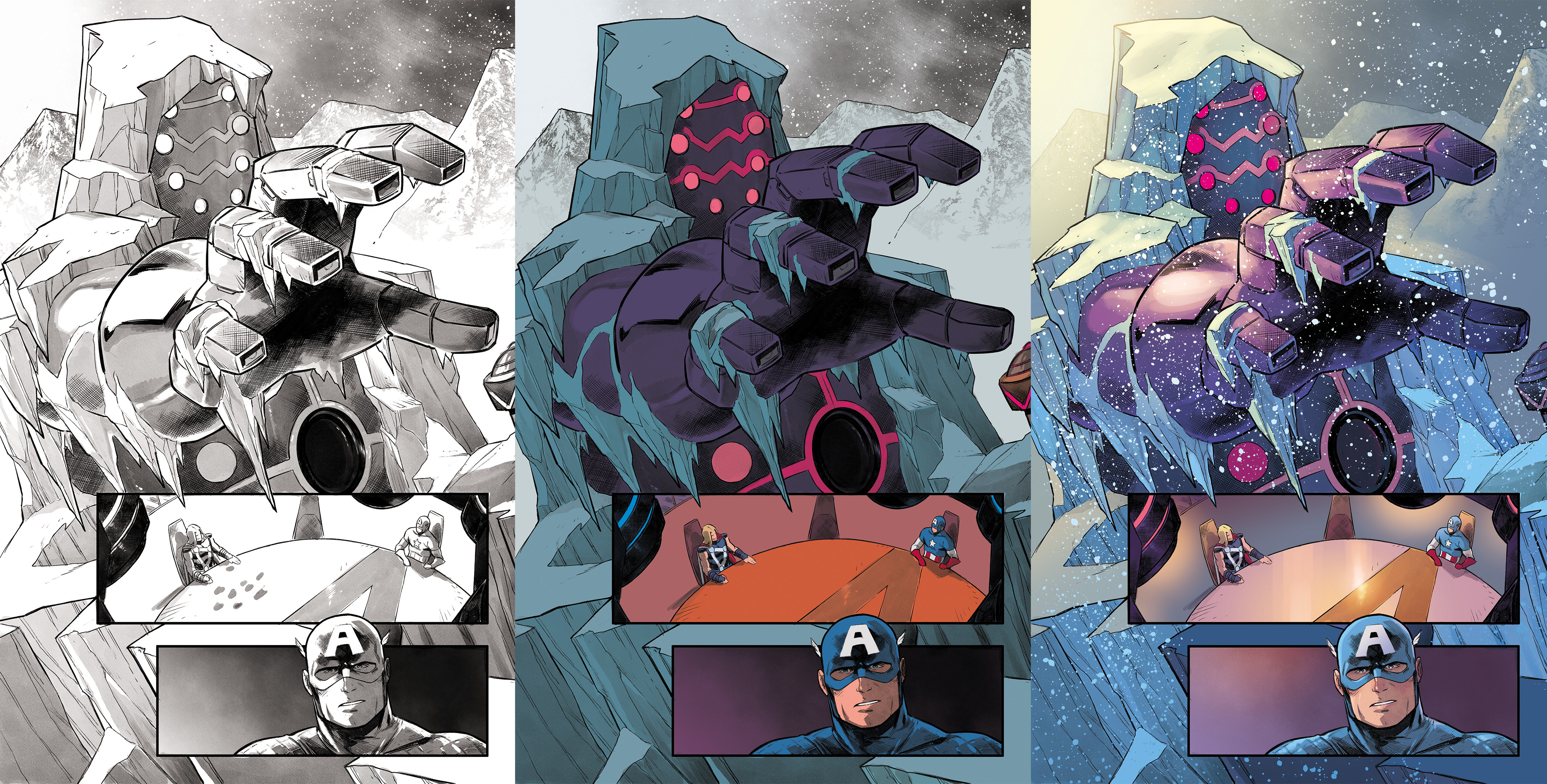 You'll gain access to some resources from the Marvel Archives and get insightful interviews with our instructors, offering you a unique behind-the-scenes glimpse into the world of comic book creation.
Unleash your artistic superpowers and learn Storytelling the Marvel Way. Your journey begins now!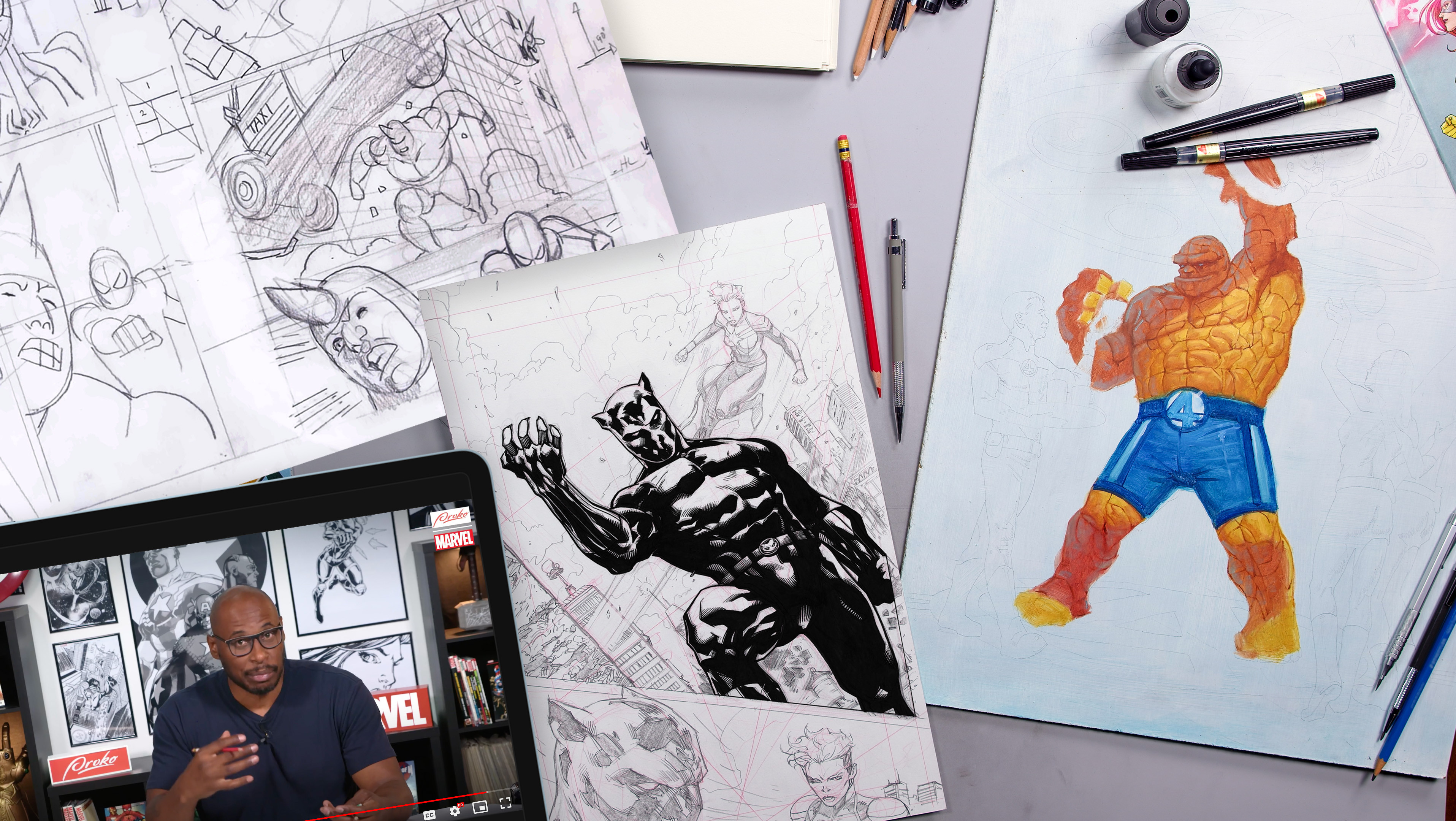 © 2023 MARVEL
What you will learn
Learn about storytelling, story structure, developing story ideas, and how to interpret a script from text to the page.
Develop your drawings so they have energy and advance the story you're trying to tell.
Learn inking techniques and see how the way you ink can affect the tone of your story.
Learn how to communicate your story in a cinematic way. And how the shot you show affects the emotion in the scene.
Get familiar with panel and page layout and learn strategies that will help you go from a text script to drawings on a page.
Bring your favorite heroes to life! You'll learn how to make characters look natural, expressive, and dynamic.
Place your characters in a living world. See how the environment and location develops the story with tips on how to make them feel more real and lived in.
Add color to your pages! Learn the professional process for flatting, coloring, and adding effects.
Learn about covers and how to approach them differently from the interior pages of a comic.
Premium Benefits
Exclusive Video Lessons
Only premium students get to watch the whole course. Non-premium students may only be able to view select previews and videos, but cannot otherwise participate in the course.
Assignments
A variety of exercises to help you practice what you've learned. After you do the assignments, you can post them in the community for feedback and see what other students are posting.
Demonstrations
Watch video demos with educational commentary from the instructor. Most of us are visual learners (we're artists!), so reading about it or hearing it explained is not enough. We have to see it!
English Captions
All videos included in this course have English closed captions you can turn on or off.
Money Back Guarantee
We offer no-questions-asked refunds within 30 days of your purchase. Our goal has always been to create a happy, thriving community. If you are not thrilled with the product, then we have no interest in forcing you to keep it.
F.A.Q.
How long is this course? How many videos are included?
Who is teaching this course?
Will premium students have access to all the lessons?
Will you teach me how to draw [insert Marvel character]?
Do I have lifetime access to this course?
Will I be able to download the videos to watch offline?
Do I have any rights to draw these characters for commercial projects?
Agreements
User Generated Content Agreement
In this course Marvel is giving you a limited, non-commercial, and personal license to create artwork inspired by Marvel's characters and stories! Share your work on the discussion board and for critique videos, but please keep it within the course. Be respectful, follow the code of conduct, and don't contact Marvel directly for feedback.
Show Agreement