My original thumbnail sketch of Bill Nye the Science Guy felt like it was resolved enough for me to skip the rough sketch stage, and go right to the abstraction, because I spent a little longer working on it than most thumbnail sketches – about seven minutes. I sometimes do this when pressed for time and I feel like the thumbnail sketch hit the mark pretty well. But if you're less experienced at caricature, I highly recommend you work through every step.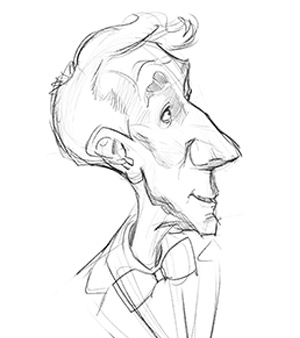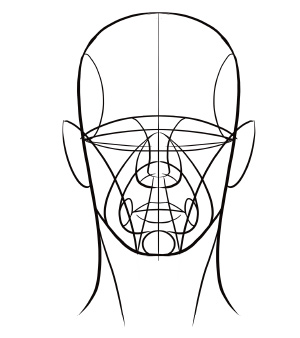 I begin my abstraction, the way I usually, do, with the big shape of the head. What strikes me about him most is his long, thin, bony body type. His skull and bone structure his very obvious, which will make my job of finding the plane changes and facial landmarks much more straightforward. The structure of his nose will be clearly defined, as well as his cheekbones and the corner of his forehead. His face is very animated with muscular expression since he's caught here in mid-sentence. He's raising his eyebrows and looking at a particular spot. He seems to be teaching or lecturing in this photo reference, and I think it would be great to draw him in a similar action in the caricature, since teaching science is what he is most known for.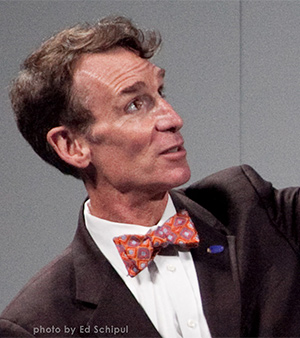 His hair seems to have a life of its own and is flying playfully off the top of his head. So the rhythm lines I use for his hair will be a bit different than the hair in the other abstraction sketches in this lesson. And that's important to remember. You will need to modify the abstraction from person to person and from pose to pose. The person's age, body type, head angle and lighting all affect what shapes and rhythms you will need to include in your abstraction sketch.
You need to be comfortable with the basic head abstraction and to understand what parts of the anatomy the rhythms are meant to indicate, so that you can add to or subtract from it when needed.
And remember that the point of this step is to focus on the design of your caricature. The abstraction should improve upon your rough sketch by helping you fix problems with the perspective and anatomy, enhance the likeness and exaggeration, and also give you the opportunity to create more deliberate and cleanly designed shapes.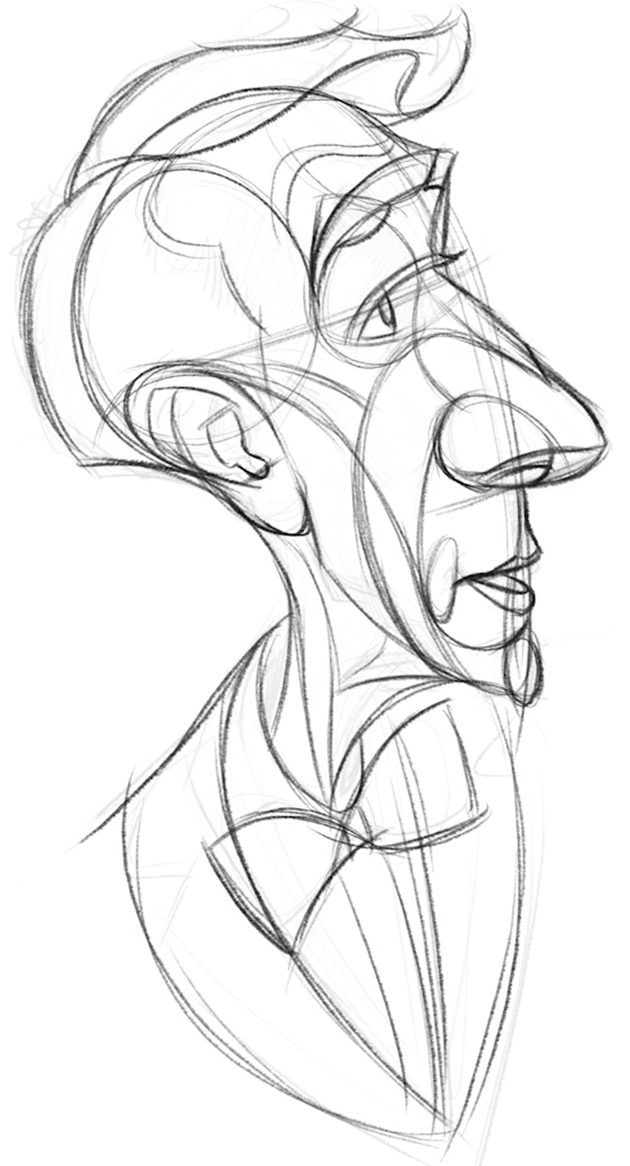 Want more? Court drew additional abstraction examples of Mark Wahlberg, Taylor Swift, Bill Nye, Emma Stone, Whoopi Goldberg, Henry Winkler, Amy Adams, Christopher Walken and Drew Barrymore in the Premium Course.
Filed in: Caricature • Videos