Graphite Portrait Drawing Techniques
Skill Level
All Skill Levels
In this demo, I will demonstrate how to use graphite, white chalk, and the extant paper tone to build a realistic portrait head from start to finish.
Drawing a portrait head in a realistic manner calls for the interpretation of values we observe in nature and their organized arrangement on a two-dimensional surface. Toned paper can provide a welcome head start into that world of translated values, helping us create a sense of atmosphere and sculptural form in an efficient way.
Key Points of Discussion:
Composition
Anatomy
Diffuse vs. specular reflection
Simultaneous contrast
Optical vs. conceptual analysis
Edges
Materials
Following the initial linear block-in, I proceed to render one area at a time, seeking to convey specificity and a convincing sense of dimensionality as I endeavor to create a sensitive and sculptural portrait of Jamaal.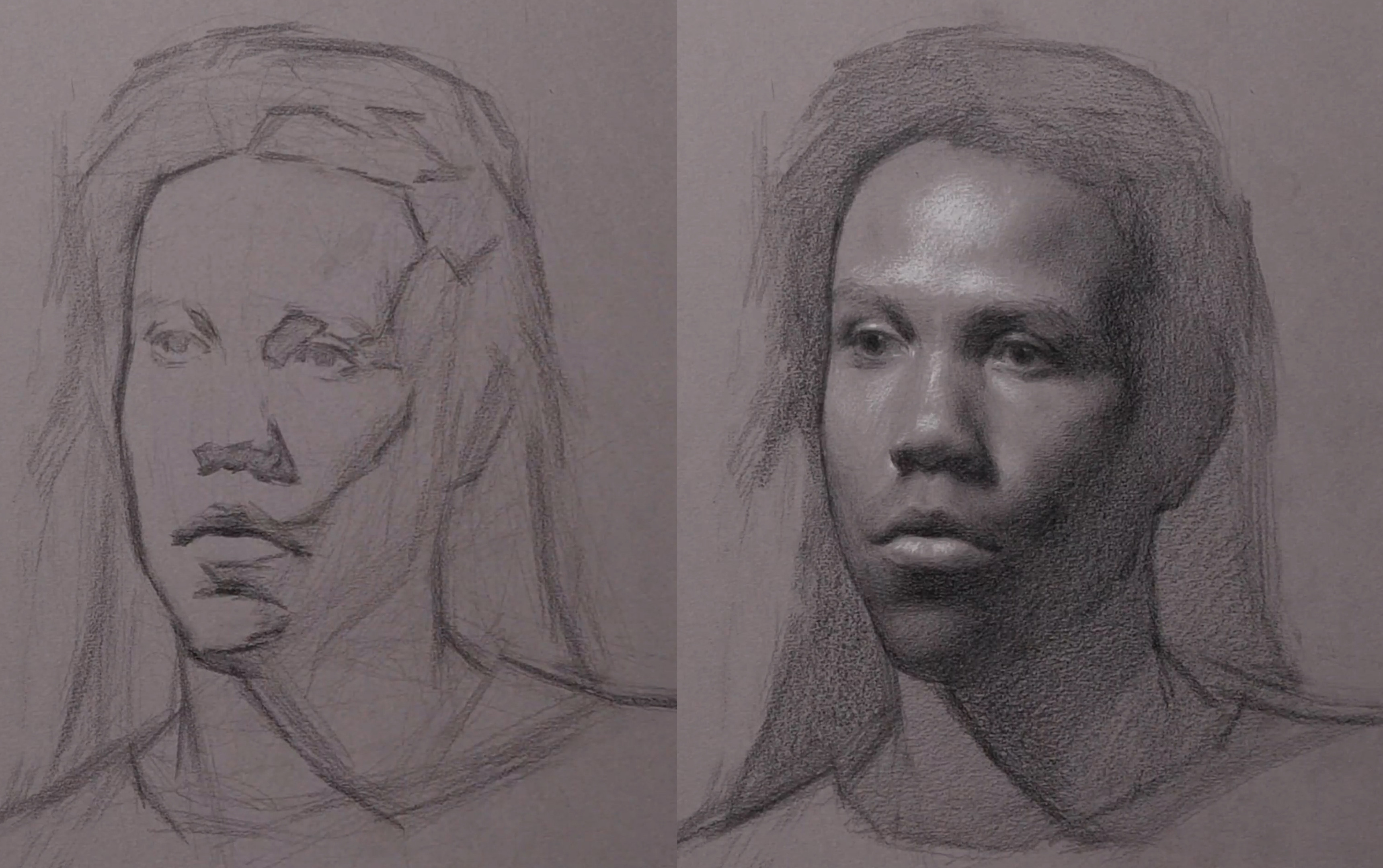 What you will learn
1
Achieve Accurate Proportions
You'll learn how to use a variety of measurement techniques to accurately capture the model's proportions and unique character with a sensitive, structural block-in.
2
Understand Light and Shadow
I'll introduce critical concepts necessary to translating the complexity of nature into the simplified world of a drawing such as specular vs diffuse reflection and simultaneous contrast.
Using both optical and conceptual modes of analysis, I'll demonstrate how to translate the light effect on the model in a powerful yet subtle way.
Discover precise techniques for combining graphite, white chalk, and toned paper to create a powerful illusion of dimensionality.
Premium Benefits
Exclusive Content
Only premium students get to watch the majority of instruction contained in this course. Little to no free content is provided.
Step by Step Process
Watch step by step video demos from start to finish with educational commentary from the instructor. Most of us are visual learners (we're artists!), so reading about it or hearing it explained is not enough. We have to see it!
Download Photos
Save photos directly to your phone, tablet, or PC for offline personal use.
Money Back Guarantee
We offer no-questions-asked refunds within 30 days of your purchase. Our goal has always been to create a happy, thriving community. If you are not thrilled with the product, then we have no interest in forcing you to keep it.
What others are saying
Edward Robitz
I've taken a lot of workshops these past few years, both in-person and over the internet. In my opinion, Patrick is the best teacher that I have encountered. For me, he has just the right combination of patience, kindness, thoroughness, and depth of knowledge that it takes to do the job well. I also think that his mode of teaching gives each of his students a sense that their work has value. He provides a very well thought out critique, and a direction to go forward and improve, and does so regardless of our skill level. That is such a gift. I would recommend Patrick's workshop to anyone who's interested in learning to draw. Anyone.
F.A.Q.
Can I download the videos?
Is this price a monthly fee?
Can I buy this course as a gift?
Are there subtitles in my language?
Are there transcripts available for each lesson?