In this demo, I'll take you through this process of how I approach a caricature drawing. I describe everything in detail and talk about my thought process as I progress through each stage of the drawing.
Start with design the overall shape of the head and hair. This initial shape establishes the level of the exaggeration.
Mapping out the shapes of the features and refine contours of the features and map out shadow shapes, thinking about where soft and hard edges will go.
Begin to shade in those areas with the same average tone.
Now I begin to darken areas that require it and refine the edges even further. You always want to hold off on the rendering phase until the underlying construction is complete and feels solid. Fancy rendering won't save a bad design.
I continue to add definition to smaller shapes and further refine the edges.
Use the kneaded eraser to not only lift out the highlights, but also to even out and simplify the shapes.
For the full video, check out the Premium Caricature Course!
Another benefit of the Caricature Course is the bonus content, check out the lesson in the Course on the History of Caricature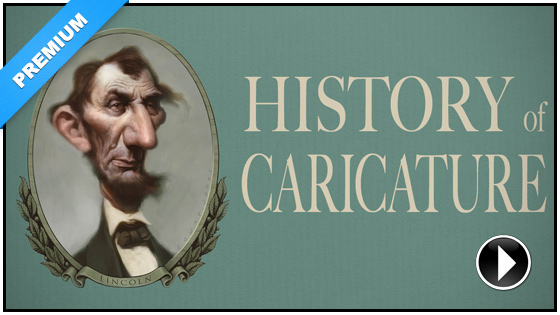 Filed in: Caricature • Videos