Figure Drawing Fundamentals
Skill Level
All Skill Levels
Captions
Chinese, Spanish, English
This course is approachable enough for beginners and detailed enough for advanced artists. My philosophy is to teach timeless concepts in an approachable entertaining way. I believe that when you are having fun, you learn better. I take pride in producing high quality videos that you will enjoy watching and re-watching.
This premium video course includes extended versions of free videos, many examples of each lesson and critique videos.
Note: This course contains nudity. Premium videos are uncensored so beware of private parts. All drawings included here are of my own work.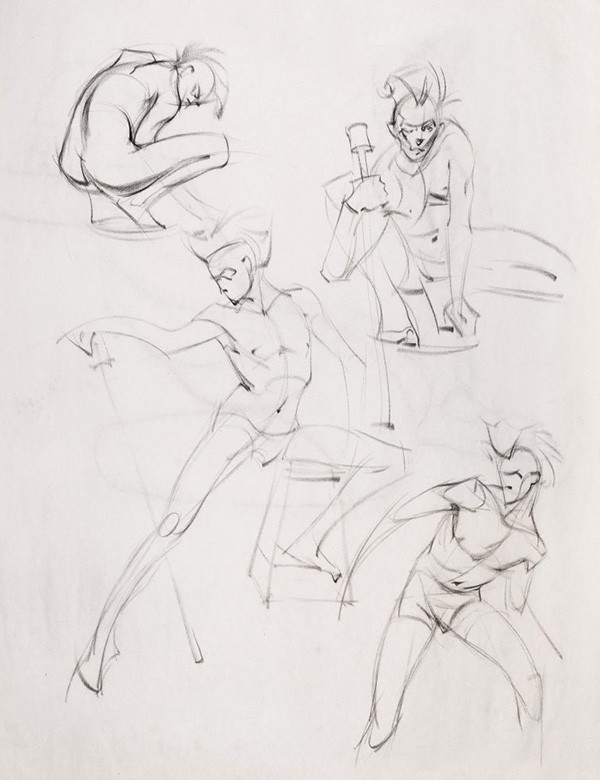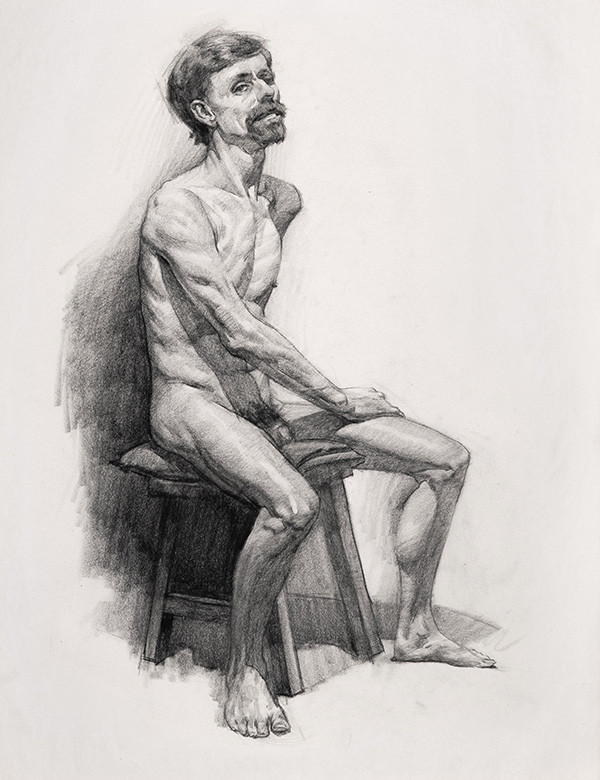 What you will learn
One of the most important concepts to drawing the figure. Gesture is the rhythm, motion, action, flow, and posture of the pose.
An effective tool for identifying and drawing the tilting, leaning, twisting, and foreshortening of the body.
Know the areas where the bone is at the surface. Landmarks are used to find forms and to measure proportion
Give your drawings volume and perspective by using mannequinization to help invent poses from your imagination.
Create a representation of the body with boxes to help find its orientation and use it to visualize it as a 3D form.
Learn how to use Dr. Paul Richer's scientific system of measuring an average person and apply it to your own work.
Use highlights, halftones, core shadows and more to make objects feel 3 dimensional. Identify specific elements of light and apply it to the form.
Develop a drawing schedule and stay motivated. Knowing how to actually draw this stuff helps with… well, drawing this stuff!
Premium Benefits
Extended Lessons
Premium videos will be longer, covering more information about the topic. You'll get to see more examples and demonstrations.
Assignments
A variety of exercises to help you practice what you've learned. After you do the assignments, you can post them in the community for feedback and see what other students are posting.
Assignment Demonstrations
The instructor includes demonstrations that show how to do an assignment or how to use the information taught in the lessons. Most of us are visual learners (we're artists!), so hearing it explained is not enough. We have to see it many times.
Downloads
Includes content that the student can download to any personal device for offline viewing.
English Captions
All videos included in this course have English closed captions you can turn on or off.
Spanish Captions
All videos included in this course have Spanish closed captions you can turn on or off.
Chinese Captions
All videos included in this course have Chinese closed captions you can turn on or off.
Money Back Guarantee
We offer no-questions-asked refunds within 30 days of your purchase. Our goal has always been to create a happy, thriving community. If you are not thrilled with the product, then we have no interest in forcing you to keep it.
What others are saying
Andy
At first, I was worried I didn't have the time to do the figure course. But I found the course is just the right length and depth to make it quite robust while still doable for someone trying to fit art education into a busy schedule. The curriculum is very well thought out and I learned many principles and skills that apply to all drawing, not just figure drawing. The structure provided by the course enabled me to make the biggest leap in drawing skills that I've ever made. I finished with a really nice rendered drawing in addition to many beautiful figure sketches. I've taken courses from other excellent artists and teachers, but Stan's videos have the best production quality and are the most entertaining. I recommend this course! The skills covered in this course will serve you for a lifetime, no matter what other courses or schools you've done or plan to do. Thank you to Stan and the Proko crew! You have created something great here and I am deeply grateful.
Moyra260
I was apprehensive about the cost and not knowing whether it would be useful to me or not. Those feelings went away because I've done this course twice and each time I gain more from it. I like that I can go back and repeat the whole course or just bits of it over and over and it doesn't expire like subscription sites. I like that it was a one off payment and I didn't have to sign up for a month to month scheme. The lessons are delivered in short, concise chunks so that one may be practised and digested before moving on to the next thereby building up the student's knowledge. Stan is very knowledgeable with just the right mix of information and humour. I would highly recommend this course to anyone wishing to further their knowledge of figure drawing. It contains enough instructions and reference material to keep you busy and practising for a long time. Thanks so much for making these courses.
Barry
At first I was intimidated because the course looked very professional and as a beginner I thought it may be too advanced. But after I started the lessons, I realized that drawing is a skill that can be learned through time and knowledge. What helped was that the course is very structured as each section seems to build upon the last. With clear instructions, examples to follow along to, and assignments. I enjoy an engaging instructor with a sense of humor. Basically Stan isn't a boring dude. Other courses lose me if they fail to provide structure, ease of understanding, and fun. It's been a great course and well worth the investment in time and money.
Angela Sasser
I already feel like this first lesson helped me tremendously when drawing characters and pushing the dynamism in my poses!
Sky David
Your figure course is the best ever instruction on drawing true figurative likeness ever made. It is so inspiring to see.
Ryan Heitman
I think you have an amazing talent, not only as an artist, but as a teacher. I am extremely grateful for your lessons.
F.A.Q.
What is the difference between Premium and free videos?
Is this price a monthly fee?
Can I download the videos?
What closed captions are included?
Do I get access to all videos you make in the future?
Are the Premium videos censored?