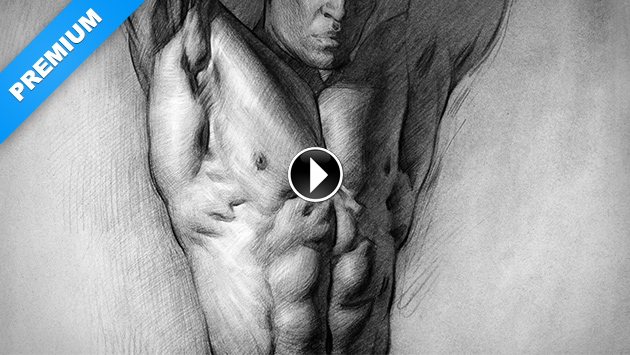 You might see tutorials online or even books that swear by using blending stumps to create porcelain smooth renderings. If done right, this could get a good result, but more often than not, this results in a bad habit of over blending. I prefer a more disciplined approach where we use the pencil to model the forms. You don't need to quickly spread the tones around with a stump. That's not descriptive enough. Instead, focus on each plane change and indicate it with the pencil. If we need to create a gradation of tone, we'll slowly lighten the pressure.
Ok, let's add all those halftones on this pec. I made the core shadow soft, and that's indicating the round form, but there's still a lot of halftone information that will show the rounding of the planes…continue this lesson.
Approach the highlights like any halftone shapes. Don't just erase them. Draw them. Design them. Think about the shape, edge, and value. You can even use line direction on a highlight to show…continue this lesson.

Filed in: Anatomy