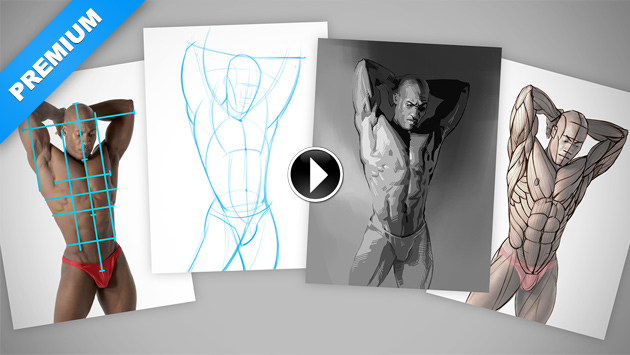 I wanted to spend some more time on this drawing, bringing it to a finish. I'm approaching this as a portfolio piece, or something that might hang in a gallery. Not just another sketch. I think this is a good mentality to have going into a longer drawing because I take it more seriously. With that, comes prep work…
I like to do some small sketches before I jump into the actual drawing. Proportion studies, gesture studies, value studies, and anatomy studies. I don't want to jump into this blind.
Proportion Studies
I look for measurements that will help me lay in the figure. Things in the photo that align well. I look for head unit alignments, width and height relationships, horizontal and vertical plumb lines, and any other proportional issues I might run into. I like to do this because… continue this lesson.
Gesture Studies
As we learned in the figure course, gesture is one of the most important elements of a figure drawing. Find the motion within the pose, rhythms between the elements in…continue this lesson.
Value Studies
I'm going to be shading this drawing to a finish. I need to be clear about the tonal composition. Where's the focal point? How will I design the values to create a clear focal point and an interesting composition? Let's look at the composition and see how we can improve it…continue this lesson.