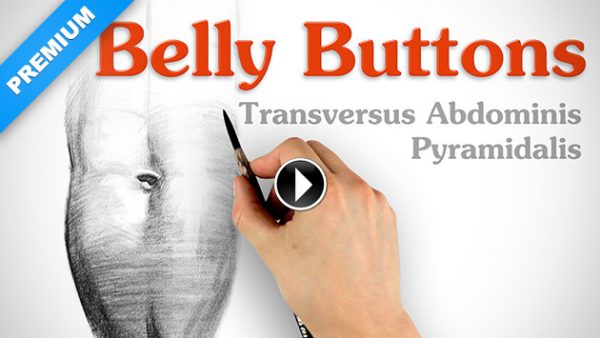 How to Draw the Belly Button
Sometimes it takes thick skin to be an artist, and thankfully you have some, right here! A scar left over from your time as a fetus. It's called Umbilicus or Navel, or most commonly a Belly Button. Because the belly button is skin, it is not a trustworthy landmark.
The shape of the belly button varies. It can be horizontal, vertical, an outie or an innie, and it can be defined more by the form of the fat rather than the skin. I usually design the belly button depending on the gesture of the pose. If a horizontal or diagonal shape will help with the gesture, I'll use that. If a vertical shape works better…continue lesson
Want more? The premium course gives you access to the entire lesson on belly buttons and the transversus abdominis. Find out more information about the Anatomy for Artists Course.