Author Archive for Court Jones
In this week's lesson we'll use youtubers Rhett and Link as subjects for my opposition sketch. If you don't remember the previous lesson, we used a pair of people's opposing features to figure out how to best caricature each of them. It's an exercise that will really help you when it comes to caricaturing an average face.
A common problem artists run into when caricaturing a person is exaggerating them without losing their likeness. This becomes even harder when the person they're caricaturing fits the "average head" diagram. In this lesson you'll learn how to overcome this artistic roadblock develop your caricature sketches using two subjects.
This student critique builds upon the previous lesson on using checklists to caricature a subject. For this lesson, the critique is broken up into two parts. The first goes over the dangers of sampling colors from photos to replicate a subject. The second goes over the abstraction process and fixing some of the structural errors of a caricature using a checklist.
In the previous lesson you learned an effective technique for pushing your exaggeration skills to make a caricature of a previous caricature drawing. And then to caricature THAT caricature! In this lesson you'll continue to learn how to push your exaggerations and get useful tips on the process.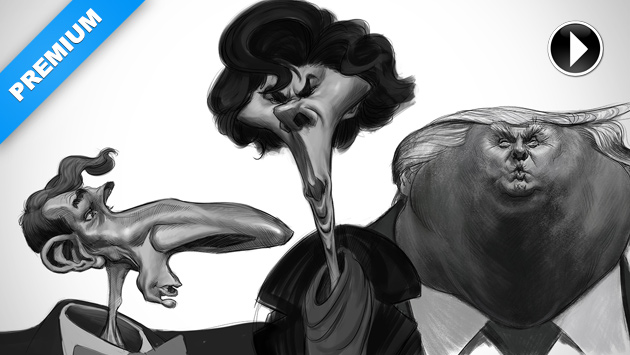 Get the premium course to see example videos of Caricature of a Caricature featuring Billy Joel, Donald Trump, Benedict Cumberbatch, Taylor Swift, Bill Nye, and Reese Witherspoon.
Time for some EXTREME EXAGGERATIONS! This exercise will help improve your caricatures while still maintaining a likeness.
Today we're drawing you guys! In this live sketch session, we'll try to draw a few Proko students from memory.
Drawing from memory. It sounds pretty hard, like something only a few naturally gifted artists could do, right? Actually, drawing from memory is something every artist does already. Technically you can only draw from memory. Challenge your memory by observing the reference for only 30, 15, and 3 seconds. Put the reference away and draw!
This lesson builds upon what Court taught you in the previous lesson on creating checklists to brainstorm the features you might exaggerate in a subject. Now he'll use YouTube vlogger Casey Neistat as another example to show how you would caricature using lists.
In this lesson Court teaches you funny ways to preserve and amplify likeness. It's usually one of the biggest problems that beginner caricaturists face.