Author Archive for Court Jones
Take your digital painting skills to a new level! Learn about the tricks and techniques to make digital look traditional.
All you kids are trying to get into digital painting nowadays. Make sure you avoid these 7 digital painting mistakes.
We've now officially reached the end of the Art of Caricature with Court Jones. In this conclusion to the course, Court imparts useful advice on how to achieve financial and personal success as a caricature artist. He also talks to you about his final thoughts on the caricature process itself.
Are your portrait caricatures looking mushy and unstructured? An otherwise well painted face will look "off" if the artist doesn't think of the facial anatomy beneath the skin. If you want your art to look finished, you need to consider the anatomy and shape design. Actively thinking of these things while you work is what separates amateurs from professionals. In this critique, you'll learn how to improve upon your caricature's strong visual design by learning how to improve the facial anatomy.
Got a problem drawing faces? A slight line tweak can throw off your character's expression. Sound confusing? Court is here to help. In this critique, Court reviews students' master studies. The first half focuses on replicating the style of those master artworks and the importance of clean design and line work. The second half dives into applying a master's technique to create an original piece in their style.
Ever try painting like a sculptor or drawing like a painter? This may sound unintuitive, but thinking in large blocks of shape and tone will help you develop the forms to look more real and natural. In this critique, we will watch one of our student's digital process videos and review where they can improve in their work.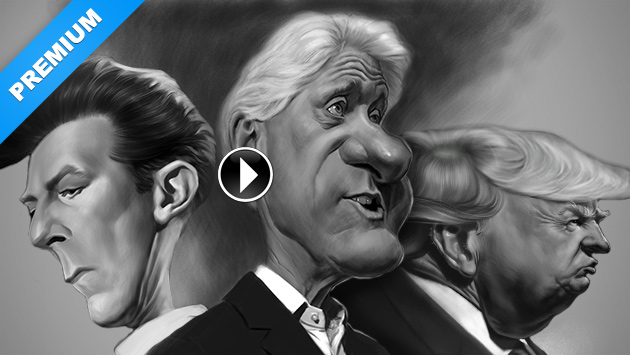 Sign up for premium and get you'll get 4 videos of Court doing a professionalized final rendering of caricatures of David Bowie, Amy Schumer, Donald Trump, and Bill Clinton.
Everything you've ever learned about caricature, all the steps and techniques, have finally lead us to this important point: drawing Beet Man (aka Stan Prokopenko). In this final example for the caricature course you'll see the entire caricature process from start to finish. You'll get a recap on the usefulness of picking a spirit animal to influence your shape design choices and get some more tips on digitally shading your artwork.
Regardless of whether you're doing caricature or a traditional portrait, it takes a lot of work to bring a drawing or painting up to a professional level of finish. In this lesson, you'll learn about applying a good and strong visual design to all of the caricature lessons and other lessons you've watched on Proko.
There was a variety of problems students had, but in this critique, we'll focus on what you should focus on exaggerating from a spirit animal when drawing your caricature.