Author Archive for Court Jones
Got a problem drawing faces? A slight line tweak can throw off your character's expression. Sound confusing? Court is here to help. In this critique, Court reviews students' master studies. The first half focuses on replicating the style of those master artworks and the importance of clean design and line work. The second half dives into applying a master's technique to create an original piece in their style.
Ever try painting like a sculptor or drawing like a painter? This may sound unintuitive, but thinking in large blocks of shape and tone will help you develop the forms to look more real and natural. In this critique, we will watch one of our student's digital process videos and review where they can improve in their work.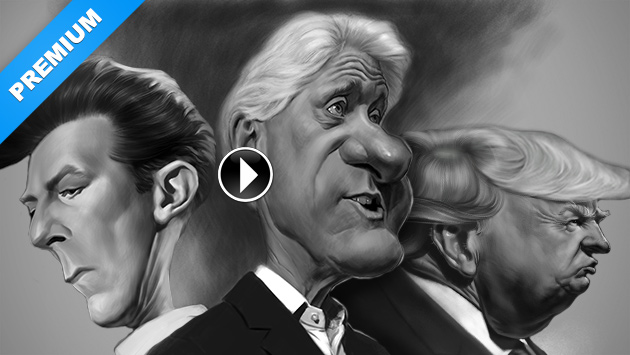 Sign up for premium and get you'll get 4 videos of Court doing a professionalized final rendering of caricatures of David Bowie, Amy Schumer, Donald Trump, and Bill Clinton.
Everything you've ever learned about caricature, all the steps and techniques, have finally lead us to this important point: drawing Beet Man (aka Stan Prokopenko). In this final example for the caricature course you'll see the entire caricature process from start to finish. You'll get a recap on the usefulness of picking a spirit animal to influence your shape design choices and get some more tips on digitally shading your artwork.
Regardless of whether you're doing caricature or a traditional portrait, it takes a lot of work to bring a drawing or painting up to a professional level of finish. In this lesson, you'll learn about applying a good and strong visual design to all of the caricature lessons and other lessons you've watched on Proko.
There was a variety of problems students had, but in this critique, we'll focus on what you should focus on exaggerating from a spirit animal when drawing your caricature.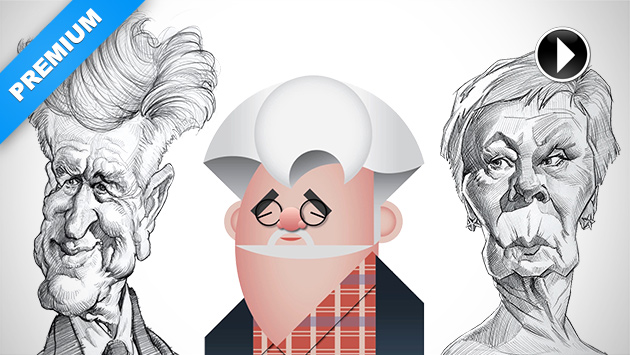 Sign up for premium and get caricature lessons inspired by the works of master caricature artists Jan Op De Beeck, David O'Keefe, Anthony Geoffroy, Maria Picasso i Piquer, Thierry Coquelet, and Sabastian Krüger.
In the last lesson we learned why it's a good idea to try and copy from other master artists. In this video, we examine master painter and famous caricature artist Anthony Geoffroy. The first part focuses on trying to copy his style from his Robert De Niro Painting. We'll look at what traits are more specific to his body of work while also trying to copy one of his caricatures. In the second part, Court applies that style to create a new caricature using Ben Stiller as his subject.
One of the top questions artists ask us is how they can develop their own unique style. Besides experimentation and a lot of practice, one of the ways to figure out your own style is by studying from artists you admire. In this lesson, we'll focus on studying a piece from Sebastian Krüger and try to copy one of his caricatures.
Court explains how you can fix your caricature mistakes while sketching Mackenzie Davis and Ana de Armas.